This time next week, I was supposed to be attending Badminton Horse Trials. It has to be my favourite equestrian event of the year, with Burghley closely following (which is sadly also looking unlikely to go ahead with the current situation). So next week, I will be getting myself a big bowl of popcorn, maybe doing a touch of online equestrian shopping, and watching last year's XC day at Badminton! I am really looking forward to it, as I usually spend the whole of XC day out on course, which is fantastic, but it does mean I only ever get to see a couple of jumps for each person's round, whereas this way I will see the whole course (don't get me wrong I would still rather be there, but this is the next best thing).
I will also be running a little fun quiz over on my Instagram account (@somethingfromthehart) so do go and check that out, as I will release more details Next Wednesday (6th May)
So back to this blog, where I am going to share with you some of my favourite Badminton Horse Trials Photos, starting with this one from 2017. Taken with Badminton House as a backdrop and capturing the crowds of people watching on the other side of the fence I loved this image. I also love that the horse was on the home stretch, with his ears still pricked and lots of energy left. The perfect example of brilliant Horsemanship!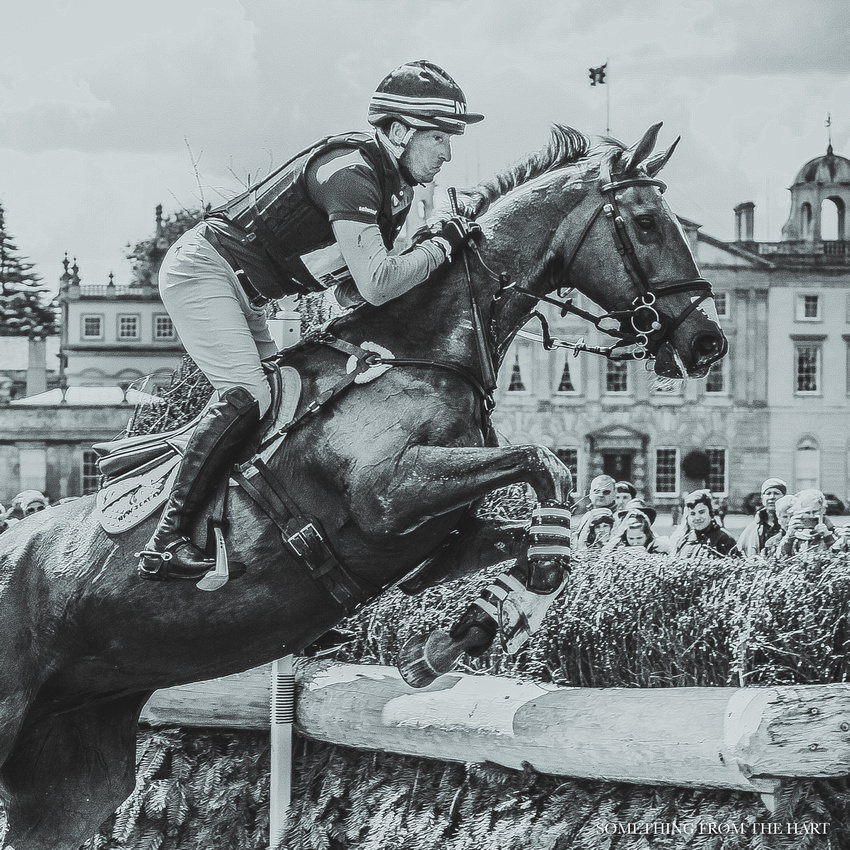 Secondly we are going to look at another black and white image taken on dressage day 2 last year. A beautiful square halt at the end of a stunning dressage test. Again, I love seeing the crowds of people in the background watching, many with blankets (as you can see on the bottom right row) as it was quite a cold day for dressage last year. I think that is one of the wonderful things about Badminton, seeing everyone happy and smiling, no matter what the weather has to trow at us, people still have huge amounts of fun!
One of my favourite places to photograph at Badminton is, in fact, the trot up. I suppose it is most like a photo shoot, as the horses are all in-hand, with the riders in country clothing. There is also the opportunity to get close up images, capturing the intimate connection between horse and rider, not to mention the STUNNING backdrop that is Badminton house. The beautiful sandstone is a wonderful colour. On this occasion, 2018, I was lucky enough to stand at the gate, where I was able to photograph the horses walking through the archway and capture their first reaction to the crowd in front of them.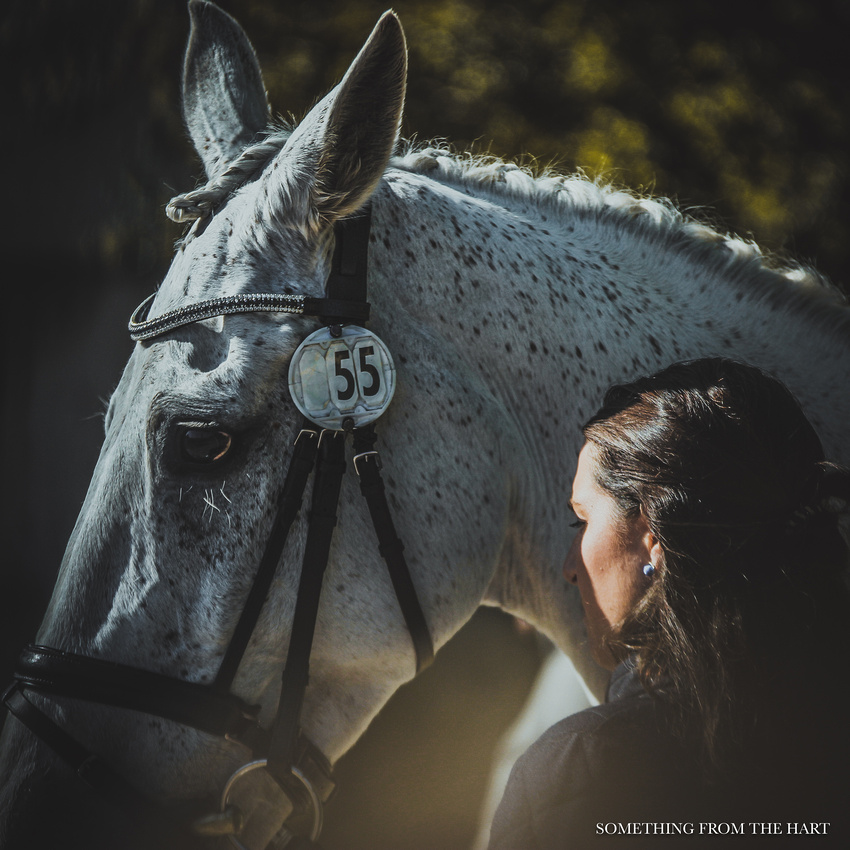 The next two images were also taken during the trot up, but in 2019 I was positioned directly in front of the house, where I captured the trot up itself. I couldn't decide on just one image to show you here, as they both have such different feelings, but I love the atmospheric sky (as I said, the Trot Up and Dressage days didn't have the best weather last year, but it gives such an amazing feeling to these images, which wouldn't have been possible on a sunny day).
Both images are of Gemma Tattersall, who I photographed for Timothy Foxx, as she was wearing one of their beautiful tweed jackets.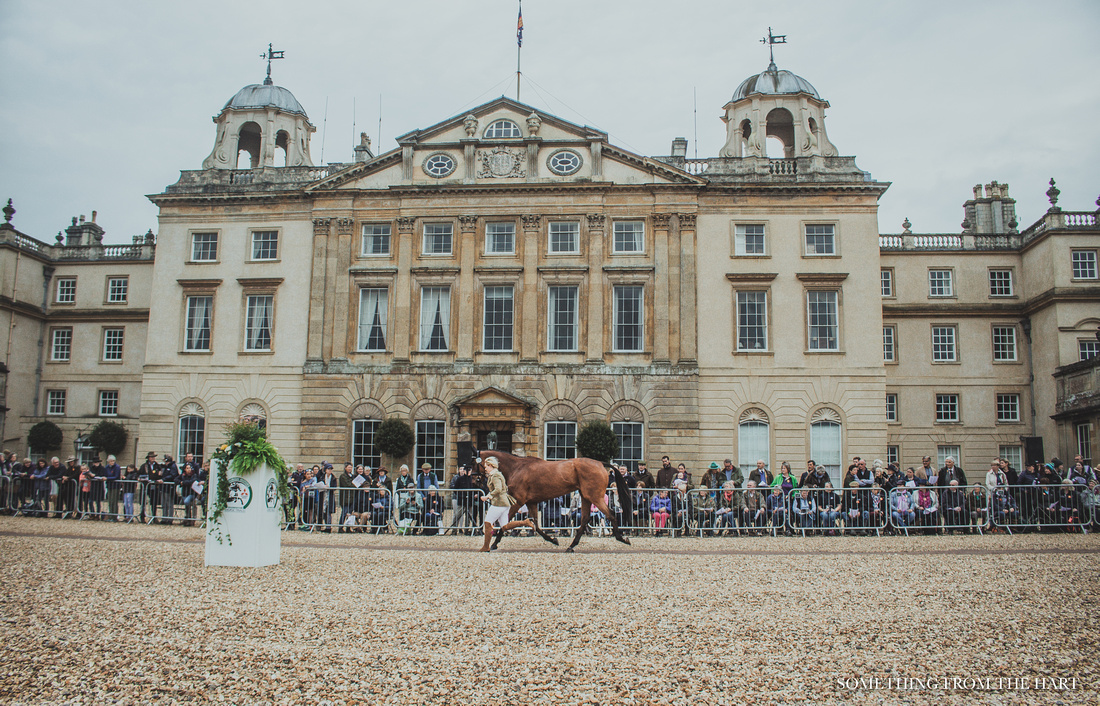 Back out on XC day 2018 and I loved the green tones in this. Such a wonderful summer feeling, the Saturday has been filled with Sunshine for the past 3 years.
The onlooking crowds in the background, all smiling and taking photos is the true essence of this brilliant event.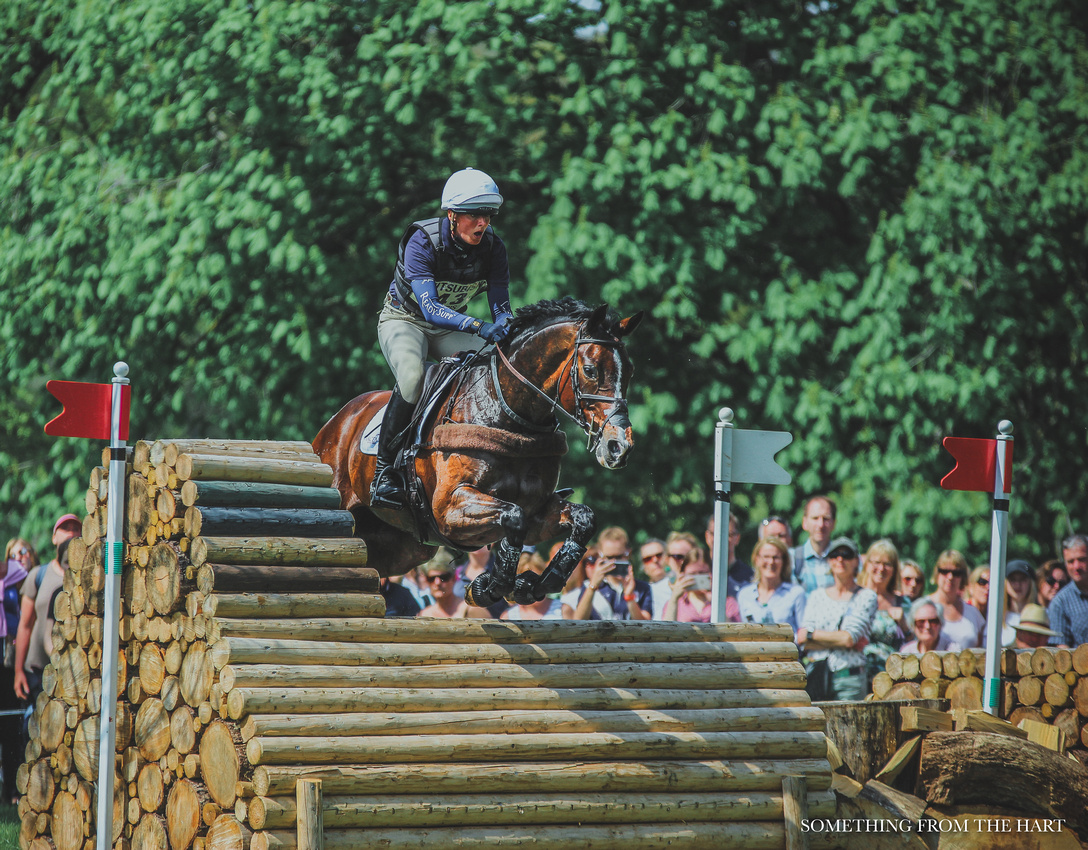 I had to include a water splash didn't I! such wonderful colour tones at the second water complex last year. I love how the sun captures the beautiful shine on these horse's coats in the sun.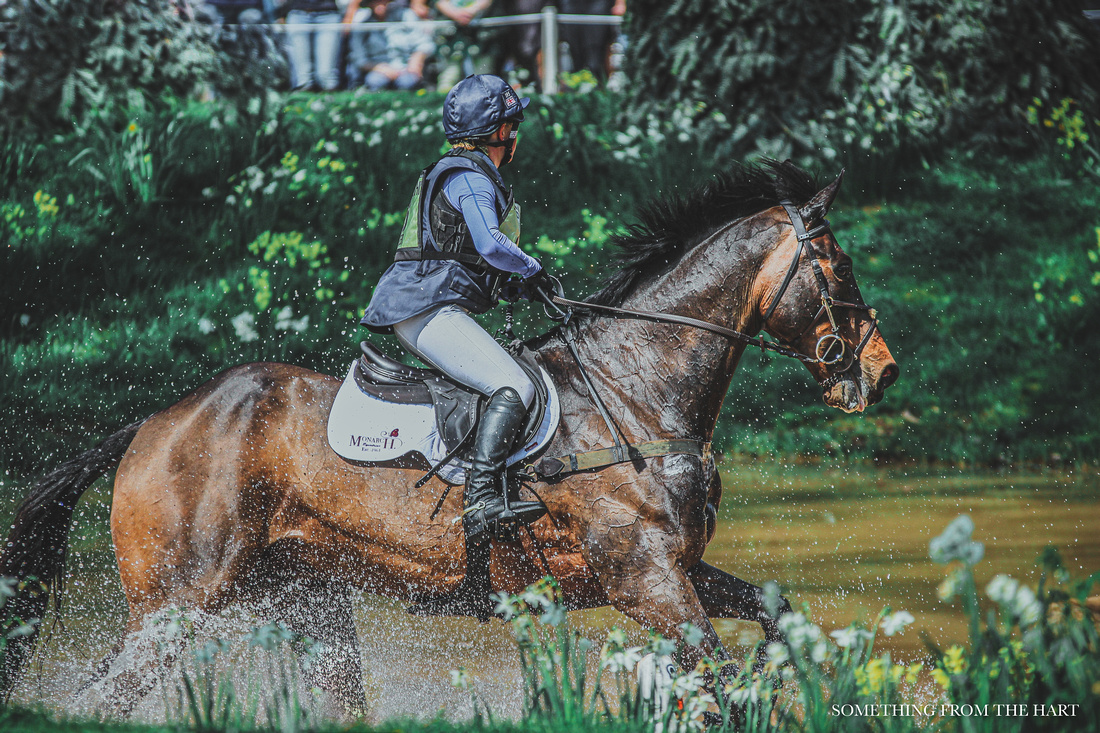 A little shot here looking down from the water complex at the lovely Badminton House, just had to add it as I t is wonderful to think of how many horses have competed on this ground over the many years of this incredible event.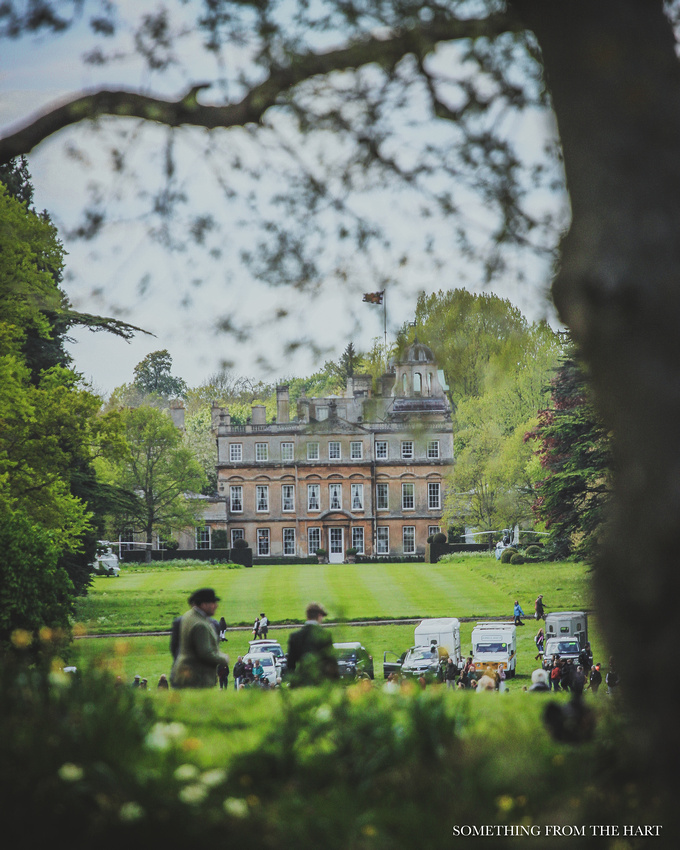 And to finish my Badminton Blog, here is a photo from the showjumping. A fantastic moment here from Lissa Green in 2018, wonderful scope!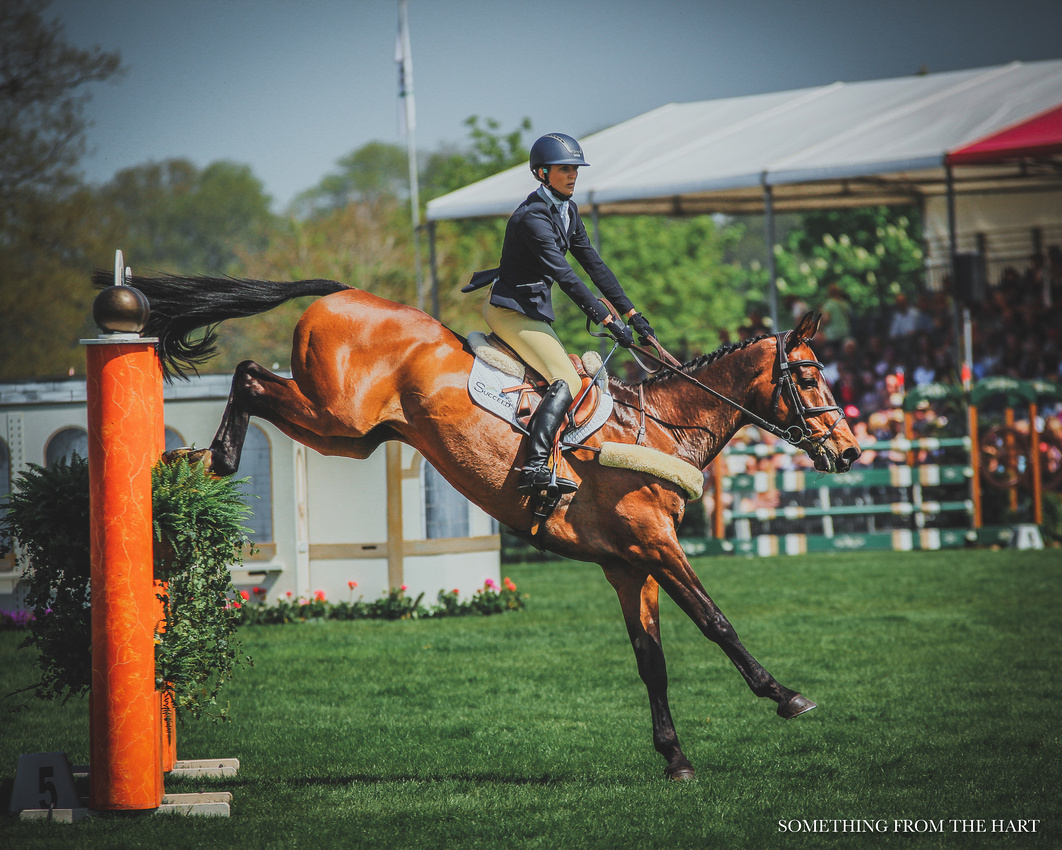 Do let me know what you thought of this blog on social media, share with your friends and comment on facebook with your Badminton Horse Trials photographs! Don't forget to keep your eyes peeled on my instagram for the fun Badminton quiz next week!